W
What Does it Mean When a Ford Order Bank is Currently Closed?
When an order bank is closed, dealerships can no longer place orders for specific models. However, Bill Brown Ford recently rolled out a new process for customers interested in purchasing a new Ford SUV, truck, or fleet vehicle with an order bank that is currently closed. Customers can now reserve their spot in line with Bill Brown's "Save Your Spot" priority list to ensure they have the fastest ordering experience when Ford begins taking orders for the next model year.
How to "Save Your Spot" at Bill Brown Ford in Livonia, MI
This beneficial process allows customers to hold their spot in line to beat the rush when Ford starts accepting orders on highly desired models again. Once Ford begins retaking orders, customers will already have a Bill Brown team member to walk them through the entirety of their purchasing journey and help them seamlessly convert their spot in line into an order. Once added to the list, there is no deposit, commitment, or purchase requirement.
To reserve your spot in line, visit 

Bill Brown Ford.
On the dealerships custom order and reservation page, you will see the option to either custom order available models or reserve your spot.
Click "Reserve- Save Your Spot" to fill out your information.
As simple as that! A team member will add you to the dealership's priority list based on the sequence of when the request is received.
What is a Ford Custom Order?
Custom ordering a vehicle is the process of purchasing a new Ford based on the model and features the customer wants, compared to buying directly from the dealer's available inventory. To custom order a new ford, the vehicle must currently have an open order bank. Once an order is placed, Bill Brown Ford will provide customers with updates and resources to track their order. The "Purchase Agreement" will be signed at delivery, which is the agreement to purchase the vehicle. If you are in the market for a new Ford, visit the #1 Ford dealer in the world, Bill Brown Ford, to get up to $1000 off your next custom order. Visit the dealer for more information or call (734) 399-4244.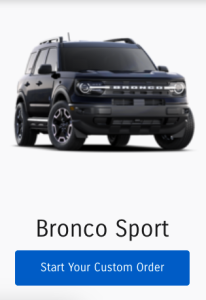 *Save Your Spot! Reserve your 2023 model now at Bill Brown. Ford order banks are set to reopen later this year https://bit.ly/OrdermyFord.